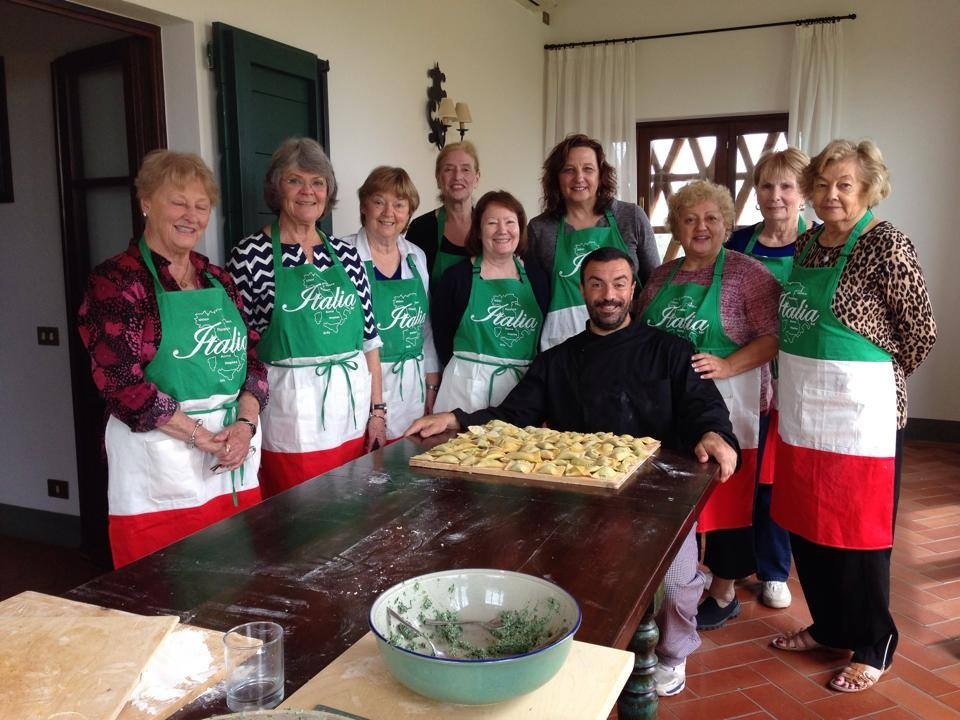 Every year we fill Tuscan Cooking and Seeing Tour early. This year we have one cancellation, single or share.
Why cook when you are in Italy? 
Why not?
$3399 based on single occupancy and $2999 based on double occupancy if share is available. Your only extras are tips for guide, chef and driver. Optional Pisa stopover pre tour.
Your group is small-only 10 women.We stay in a lovely recently restored farm house with 10 bedrooms, 10 private bathrooms, swimming pool, wifi, several living rooms, several dining areas (inside and outside) and a huge kitchen where our chef teaches.
Your private room has air conditioning, wifi, lovely bathroom and windows overlooking vineyards. Stroll downstairs for each lesson and tour.
This farmhouse is a home away from home You will nest quickly. Some years women come to breakfast in their pj's, that is how homey the farmhouse is!
No packing and no unpacking. Dress is what you would wear when relaxing at home: leggings, tee's whatevers.
Even if you cannot boil an egg, you will fit in. We send you home with printed out recipes and loads of hints on how to improve even the simplest dishes. This is hands on cooking; messy and real. We give you an apron of course.
Afternoons we discover Italy: Lucca, San Gimignano, Florence, an elegant vineyard and Siena, while our private chef cooks for us also. Travel is in our private Mercedes bus along with our local Italian escort/guide. Some days we eat lunch out (Florence) or enjoy dinner in a Tuscan hilltop town.
Relax with Prosecco and Italian wines at lunch and dinner.
Nibble on extra biscottis you baked.
Learn about wines and Italian cheeses you taste.
Bring questions for our chef or just bring a smile and a laugh.
Love walking, wander thru the vineyards to a local Italian village. (2 miles) or visit the on site wine shop.
Love being at home in Italy; details are here.  But don't wait as there is one spot only left on this trip.
Phyllis@thewomenstravelgroup.com
646 309 5607