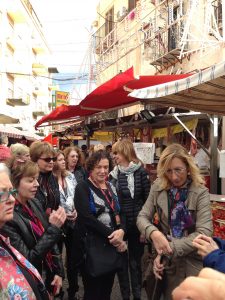 The Women's Travel Group office is open M-F. We believe in the human voice and in the telephone so we return all calls immediately. Call us if you are a solo woman traveler with any questions or concerns. We expect many questions. We are happy to chat about a Women's Travel Group tour or to discuss a private trip for friends or organizations especially if they are women traveling together.
For general information, use the form below – an email is required if you wish to be notified of specials and new women's trips. To contact Phyllis Stoller Monday-Friday, ESTime 10-5, call 646-309-5607 or email her. If you are from another time zone or wish to chat after work, tell us when to call you. If you are overseas, call us on whatsapp.com at 646-309-5607.  If you wish to fax us: 917-634 4022.
If you are just curious about us, here is Phyllis Stoller on LinkedIn and About.me. Read about Phyllis here in Travel Market Report.You should also read about SITA Tours our strategic partner and one of the most respected tour companies in North America. Ask for names of other partners we work with; we are transparent and well financed.
PRIVACY POLICY We do not sell or give away your email or any personal information unless you agree in writing.
---