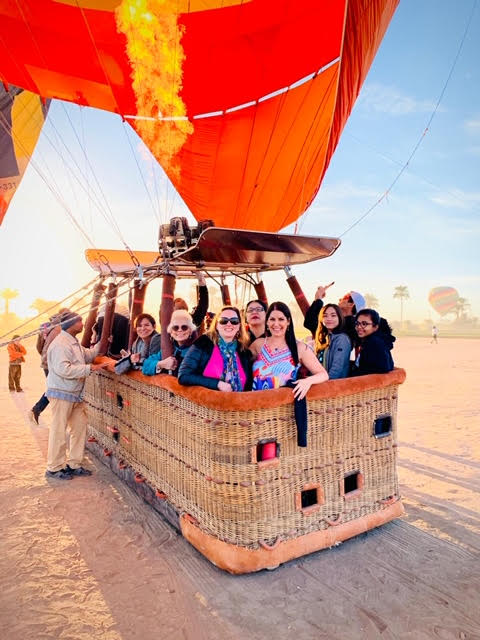 Grandchildren are afraid to travel says The Women's Travel Group. Headlines of airplane recycled air and cruise ship contamination scare them. Travelers are quarantined counting days, stuck overseas or feeling home lonely. How can we help our grandchildren to look forward to the adventures we have loved. And stay connected with them?
I have talked to my 12 year old darling granddaughter, about our traveling together one day. I send her photos and anecdotes when overseas and bring her and his sisters little gifts from unusual places. The world has changed; she is reading that people are sick and dying in the very places we dreamed about visiting together.
Here is one way to keep a wanderlust flame burning..  Share a viewing of travel-related movies that inspire adventure and are filmed in the real magnificent scenery. For a few $ you can continue to excite youngsters, with movies. Watch then share on your phone call, the Zoom app, or Facetime. Revive travel excitement now.
Share these films; they are not animated and were made on locations that The Women's Travel Group Tours.
This musical classic takes place in the Alps and in and around Saltzburg Austria. The scenery is gorgeous, the palace and nunnery are impressive,  and the political side of the story is understandable to many youngsters. For those too young to get the WW2 history, a sing-along to DO RE MI is fun and something you can do with even a 2-year-old.  Most children love films with other children in them. Begin your travel healing with this one. It is available in the usual places plus Disney.
Around the World in 80 Days. What better than to share the entire globe? Phileas Fogg visited London, Hong Kong, India, Japan, crossed the Mediterranean and returned to London to his triumphant ending.  When next in London with your special children  (this will happen I promise), walk by the actual club where the movie begins and ends: The Reform Club. Many years ago, The Women's Travel Group: www.thewomenstravelgroup.com had dinner there.  
Roman Holiday, $2.99 to rent on YouTube.com a light-hearted romance with Andrey Hepburn and Gregory Peck. Even though it is in black and white, the scenes are the real deal. When Gregory Peck spoke on a national tour, he told his audience that he was interviewed by a French journalist during the film. She did her interview and left his hotel room, 48 hours later. You don't have to share that with children; except he really did have real romance during the production and then married his interviewer.
Out of Africa is fine, minus one or two scenes. The film was filmed almost entirely in Kenya and in many places that The Women's Travel Group visits.  It is a true adventure of a young woman taking a chance, making mistakes, and surviving to write a world-famous book. This movie is credited with putting Kenya front and center for tourism. Another movie filmed in Africa that is not too heavy or frightening is Gorillas in the Mist
Here is the trailer for Dora and The Lost City of Gold for all ages. Filmed in Australia and Peru and a Mexican/American/Australian production, this film will thrill and scare a bit. It has jungles, puzzles, bad guys and good guys, high school angst and a happy ending.  This film has to be on this list. 
Click here scroll down the list titled 'Film' and you will learn why.
Old movies are usually available on www.Youtube.com, Disney movies on the Disney Channel, and most on Amazon AmazonPrime , Netflix/Google Play etc.