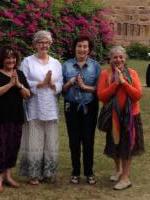 Travel films from The Women's Travel Group. So you are stuck at home. The closets are cleaned. Your kitchen is sparkling. Now, what can you do to make your inside time more enjoyable yet keep travel in your mind? This is the first in a series of www.thewomenstravelgroup.com 's posts about films shot in gorgeous exciting locales. This one is all about India where we go each November as a group trip while the weather is ideal. 
Here are a few of our favorite films on India that include wonderful scenery, good stories and are affordable or even free. After all, this pandemic will not last forever and we travel addicted women will be off and packing again before you know it. So travel via film then travel with The Women's Travel Group.
We also include below where to see the film or the cost if there is one. Cost and availability change frequently; hunt around and you will find some of these even free on UTube. If you watch them on UTube you might have limited access- ie like you only get to see 1 or 2 episodes before having to pay? Clear cookies and try again. Or try with Google Chrome Anonymous.
Gandhi, the epic life story from Richard Attenborough, filmed with 300,000 extras in places we visit. Winner of 8 Academy Awards. Much was filmed in Delhi! You can find this film on: Amazon Prime (with ads) or rent it for $3.99.
Other films in or about India: Heat and Dust (a wonderful love story and also page turning book which won the Booker Prize), Jewel in the Crown (British series so addictive Brits cancelled their social events and stayed home to see each sequential episode), The Far Pavilions another 30 hour epic series about British India relations during the Raj mostly filmed in India. (Acorn). Finally, iconic A Passage to India, David Lean's last film was shot in Bihar and Kashmir. Available on the usual sites: $2.99 to rent.
You can find Heat and Dust on: Kanopy (free service with some public libraries). Rental on most services $3.99. Far Pavilions on Acorn ( $49 for a year of British tv and movies), Jewel in the Crown ( iTunes, Google Play etc $1.99).
For those looking for escapism filmed in India:
Eat Pray Love (Delhi scenes)
Slumdog Millionaire (Delhi)
The Best Exotic Marigold Hotel and its sequel (Jaipur and Udaipur)
The Rains Came: Zanuck 1939 romance movie, free on Youtube. One of first movies filmed in India.
For more information or to ask us for advice from 28 years of small group tours : Phyllis@thewomenstravelgroup.com
646309 5607 www.thewomenstravelgroup.com/tours