There is no better food on earth…than you will eat on our Sicily trip March 19-29 2020
There is no better food on earth…than you will eat on our Sicily trip March 19-29 2020
The March climate is warmed by mild Mediterranean breezes. Over the centuries Sicilian food was influenced by the Greeks, Spanish, French, Arabs and New World.  In fact, the first cookbook with a known named author was written by a Sicilian cook in 5th century BC.
Here is what history cooks for our trip to Sicily and Malta
The Arabs donate apricots, spices, sugar, citrus, saffron and tropical fruits. Candied orange and other fresh sweets don't keep so you have to eat them while traveling. Too bad.
The French brought a love of meal dishes. Rich meat sauces over pasta? The first long and thin pasta was made in Sicily in 12c AD, ummmm.
The Spanish introduced New World cocoa. Gelato? Cassata with chocolate bits? Easter eggs of chocolate- buy them in March for your celebrations. 
Greeks love olives, pistachios, and veggies. Many meals will begin with a bowl of oily olives peppered just so. Most meals include fresh vegetables so vegetarians will be happy.
The sea gave the Sicilians all the fish they could eat. Our trip will include much seafood some on a bed of pasta.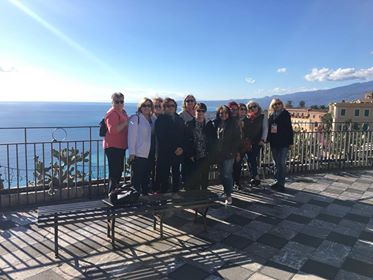 So on our Sicily trip you will enjoy all of the above and even more. Join the trip and you will not be disappointed.
https://thewomenstravelgroup.com/tours/ for more trips to Italy in 2020. Information: Phyllisnycity@gmail.com or call us 646 309 5607 and get a first-hand account of the trip.
Share with your friends who are Sicilian or who would like to eat like one.