For a travel addict 2020 was deeply painful and depressing. Personally a sighting of a suitcase brings tears. In The Women's Travel Group are many travel addicts reading this post. Here is the story of others just like me and probably you.
For me addiction started at St Agnes Public Library, 444 Amsterdam Avenue, in a then dangerous NY neighborhood.
The itch came from The Last of the Mohicans by James Fenimore Cooper. This classic is not girlie and not a travel book. But the 1757 story of 2 girls guided through the forest to Lake George, hit hard. From then on, the library meant virtual travel for a girl in a family that never flew on a plane. (A travel writer friend told a similar tale of finding adventure and travel addiction, in books in her North Carolina library).
So how did others get hooked? Some women traveled to get away from disintegrating marriages and found they loved it. Eat Pray Love by Elizabeth Gilbert is iconic. Others traveled to re-evaluate relationships. Frances Mayes' Under The Tuscan Sun is that story, with ups and downs of renovating a decrepit villa, a happy ending and loads of food/wine in a gorgeous area.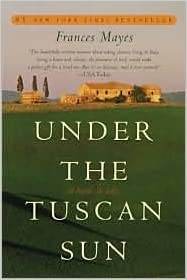 Women tell us they wanted privacy and solace away from advice and whispers. Just to walk into a restaurant and be anonymous can feel free. Intrepid 'turn of the century' writer Freya Stark shared "To awaken quite alone in a strange town is one of the pleasantest sensations in the world." Too much advice from well meaning friends can rush you to the Passport Office and a wonderful travel addiction.
Some women took a first solo trip to prove themselves. Taking a trip without a partner teaches confidence. Just first time calculating a tip can be an act of independence. Irish writer, Dervla Murphy in Full Tilt: "On my tenth birthday a bicycle and an atlas coincided as gifts, and a few days later I decided to cycle to India."
Others got started by escaping to 'clear the mind' about a lifestyle change: new career, return to college, a move. Psychologists tell us distraction is important if we are stuck in anxiety. Travel is the perfect immersive getaway; no familiar streets, no friends with advice, no family obligations.
So I leave 2020, with a list of a few other favorite books, by women about travel. And with encouragement that you are not alone as a travel addict.
Out of Africa, by Isak Dineson
West with the Night by Beryl Markham (she ran away with Dineson's lover (Robert Redford in the film).
Arlene Blum's Annapurna: the story of the first all female climb of a 8000+ meter mountain. Crampons not tampons one climber requests. (or vv).
Rumer Godden's books about growing up in India (good for children also)
Rebecca West, Black Lamb and Grey Falcon, a 1,000 page journey through The Balkans pre WW2. Some consider it the best travel book ever written
So for our last comment of 2020, quoted from From London's Royal Geographic Society:
A lady an explorer? /A traveller in skirts?/The notion's just a trifle too seraphic/Let them stay and mind the babies, or hem our ragged shirts;/ But they mustn't, can't and shan't be geographic.
Well we can, and will. See you in The Emirates or Tuscany or Paris or The Globe.
Travel Tips from The Women's Travel Group Contact us with your favorite books by women for us addicts! Don't like to type: call us at 646 309 5607. Best for 2021. #thewomenstravelgroup #phyllisstoller