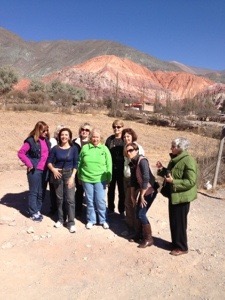 Please share with friends who have special needs they are reluctant to talk about.
Why should you also call your tour operator? Sometimes speaking with us at The Women's Travel Group, brings up other questions you forgot or were nervous to ask.
Example: A woman was hesitant. When we spoke with her, she told us she was on the heavy side and worried that she might not fit in.
Some questions are easier to answer verbally. Example: A woman asked if she, as an older lady, could do our trips? By speaking with her, we went over each day and what it entailed physically: stairs, cobblestones, airport walkways etc.
We all have some medical issue at this point, some are hard to write about. Example: a woman had a colostomy bag and wanted to tell us that she needed some extra time.  We always keep privacy where it belongs.
We were all girls in high school, and cliques still worry us. Talking casually about who is in the group with you will probably assuage this worry.
So if your tour operator cannot spend time on the phone with you, move on.
Travel Tips from The Women's Travel Group, with some space left on 2016 tours to India, Morocco for Christmas, Italy for Thanksgiving….
Call us we love to chat about travel. 646 309 5607  Phyllis@thewomenstravelgroup.com