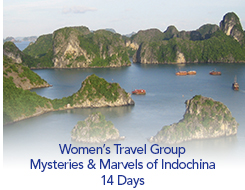 I just returned from the most fabulous Christmas Markets Danube cruise on AMAWaterways. The trip was perfect.  In some places, we suggest a land trip as the major sites are not on the river.
The Women's Travel Group has chosen to visit Vietnam and Cambodia, not on a cruise. The places of greatest interest are on land. We are staying in fine luxury hotels, going to famous restaurants, and have included both the glorious and gritty history of the area. Our shopping times are saved for the fine stores recommended by friends, not for tourist traps.
There are pockets of leisure time when we feel you need a break to better drink in the atmosphere. There are opportunities to experience oriental spas both at hotels and on our luxury overnight junk. Some cooking and much tasting finish our experiences.
Optional stopovers in Seoul are available.
March 23 – April 6, 2014
Day 1: March 23 Sunday – Depart USA
Board your flight bound for Asia. Cross the International Date Line en route.
Day 2: March 24 Monday – Arrive HANOI
Arrive in Seoul this evening and connect with the onward flight to Hanoi.
Upon arrival in Hanoi, meet your guide and transfer to your hotel.
Silk Path Hotel (Deluxe room) Deluxe Hotel
Day 3: March 25 Tuesday – HANOI (BLD)
Take a full day to explore Hanoi's illustrious history. Stroll through the park to discover Ho Chi Minh's stilt house, the simple two-room dwelling where Ho Chi Minh lived from 1948 until his final days. Preserved in the same condition as, during his life, it may be viewed through the windows. Visit the Ho Chin Minh mausoleum and the nearby miniature One Pillar Pagoda. Dating from the 11th century this monument was rebuilt after being destroyed by the French in 1954. Visit the first University of Vietnam, Temple of Literature is a peaceful series of walled courtyards and graceful gateways, this monument is one of the best-preserved examples of traditional Vietnamese architecture founded in 1070. We also visit the Ethnology Museum, which has examples of the housing and clothing worn by Vietnam's ethnic groups. In the afternoon visit Hoan Kiem Lake and the Ngoc son Temple. In the evening enjoy a welcome dinner at Green Mango Restaurant.
Day 4: March 26 Wednesday – HANOI (BL)
Explore the winding lanes of the Old Quarter by cyclo where the streets bear the names of the crafts sold here. Stop at Tan My Design where 3 generations of women showcase sumptuous silks and embroidery. Lunch at KOTO Restaurant (Know One Teach One) KOTO is a not-for-profit restaurant and vocational training program that is changing the lives of street and disadvantaged youth in Vietnam) Delicious food!
In the afternoon we'll visit some of the best craft shops in the Old Quarter as well as art galleries with both traditional and contemporary art. In the evening, take delight in watching a traditional Water Puppet performance whose origin dates back over a thousand years.
Day 5: March 27 Thursday HANOI – HALONG BAY (BLD)
Drove through green rice paddy fields to Ha Long Bay. At Tuan Chau pier, board our junk for a cruise among the hundreds of islets that dot the bay. Enjoy a seafood lunch before visiting a grotto of gigantic stalactites and stalagmites.
As you sail you can attend the chef's cooking demonstration and try your skills in the art of traditional Vietnamese cooking. Drop anchor in the late evening for an overnight stay among the dramatic limestone peaks rising out of the sea.
Paradise Luxury Junk. (Deluxe Balcony) Complete Spa facilities onboard offer a variety of massages and beauty treatments in addition to Jacuzzi and sauna
Day 6: March 28 Friday HALONG BAY – HANOI Fly to Danang (B)
Start the morning with Tai Chi on the sundeck followed by a sumptuous breakfast. Spend the morning cruising through the emerald waters before returning to the wharf. Return to Hanoi with a stop en route at a ceramic factory. Transfer to the airport for the short flight to Danang Victoria Hoi An Beach Resort & Spa (Superior)
Day 7: March 29 Saturday – Excursion HOI AN (BLD)
Experience the amazing sights, sounds and aromas of Hoi An market on a personally guided tour with the chef of Red Bridge Restaurant. Interact with the stallholders and purchase fresh ingredients for the day's meals. After completing the shopping, take a boat cruise along the Hoi An River to the Red Bridge Cooking School. Learn about Vietnamese herbs and spices, local ingredients, and the art of food decoration. The chef will demonstrate how to prepare some of Vietnam's most delicious dishes. Guests then have a chance to create their own meals under the chef's guidance. Enjoy a delicious home-cooked meal of Vietnamese and Hoi An specialties. Afternoon enjoys a walking tour to explore this World Heritage Site. Some of the highlights include the Phuoc Kien Assembly Hall, the 400-year-old Japanese Covered Bridge, and the vibrant riverside market. Take a peaceful boat trip on the Thu Bon River to Thanh Ha pottery village. This evening's dinner is at Mango Rooms Restaurant.
Day 8: March 30 Sunday – HOI AN (B)
This morning our driver and Guide are on hand for a morning of shopping. The area is known for crafts of both fine and budget quality. The afternoon is free at leisure.
Day 9: March 31 Monday – DANANG to SAIGON (BD)
Mid-morning flight to Saigon. Transfer to your hotel. This afternoon visits the Reunification Palace. Drive by the Central Post office and Notre Dame Cathedral, Cholon (Chinatown) with Thien Hau Temple and Binh Tay Market. Dinner tonight at the Temple Club. Grand Silverland Hotel (Premier Deluxe)
Day 10: April 1 Tuesday – SAIGON – BEN TRE – Boat Cruise (BL)
Today we explore the lush Mekong Delta. Upon arrival in My Tho, board a boat for a cruise along the river and take a short walk to a handicraft workshop where products are made from coconut trees. Experience an exciting horse-drawn cart ride to visit a local home where you will enjoy tea and taste homegrown fruits. Board a sampan and drift along the narrow tree-lined canals. After lunch visits a family-run business making coconut candy before returning to My Tho for your drive back to Saigon. If time permits we'll stop at Vinh Trang Pagoda along the way.
Day 11: April 2 Wednesday – SAIGON to SIEM REAP (BLD)
Transfer to the airport for flight VN 811 departing at 11:40 and arriving Siem Reap, Cambodia at 12:40. After check-in and a brief rest, we'll depart in the late afternoon to catch a sunset at Angkor Wat. The crowning jewel of Khmer architecture, Angkor Wat is the national symbol and the highlight of any visit to Cambodia. The largest, best-preserved, and most religiously significant of the Angkor temples, Angkor impresses visitors both by its sheer scale and beautifully proportioned layout as well as the delicate artistry of its carvings. To approach the temple, first cross the vast moat, continuing along a broad causeway lined with naga balustrades. As you enter the main building ascend through a series of galleries and courtyard before reaching the central sanctuary which offers beautiful views back over the causeway and across the surrounding countryside. On the way stop to enjoy the intricate stone carvings that adorn nearly every surface with some 1,700 Apsaras or celestial dancers sculpted into the walls. Along with the outer gallery, walls run the longest continuous bas-relief in the world, which narrates stories from Hindu mythology including the famous Churning of the Ocean of Milk. Angkor Wat is stunning at any time of the day but sunrise and sunset are especially beautiful times to watch the play of light on the stones .as we enjoy a glass of champagne. Enjoy dinner at photographer Loven Ramos's restaurant and art gallery, 1961. Take time to view the works by local Vietnamese artists Borei Angkor Resort & Spa (Landmark)
Day 12: April 3 Thursday – SIEM REAP (BLD)
The fortified city of Angkor Thom covers an area of 10 square km. Enclosed by a wall and wide moats the city includes many of Angkor's most popular sights. Enter by the monumental South Gate over a causeway lined on either side by statues of demons and gods each carrying a giant naga. Continue to the Terrace of the Elephants and the Terrace of the Leper Kings, former spaces for public ceremonies, both adorned with dramatic bas reliefs. Visit the ruined Baphuon, Royal Enclosure, and Phimeanakas before continuing to the mysterious Bayon Temple. In this temple, one of the most popular and compelling in Angkor, explore the galleries of beautifully preserved bas reliefs and ascend narrow stairs to reach the central sanctuary where you will find giant stone faces smiling enigmatically down at you from every angle.
Lunch at Paul Dubrule's training school Les Jardin des Delices. This afternoon we'll visit Ta Prohm Temple which is mystically enveloped in the jungle. We'll have dinner tonight at a local restaurant.
Day 13: April 4 Friday – SIEM REAP (BLD)
After breakfast, visit the graceful 11th century Temple of Shiva, Banteay Srei, built-in pink sandstone the walls are covered in exquisitely preserved carvings of unusual delicacy. Because of its small size, fairy-like atmosphere and extraordinary examples of Khmer sculpture, this temple is often a favorite with visitors. In the afternoon, visit Artisans d'Angkor, which provides vocational training courses to rural youth in wood and stone carving, lacquering, gilding and silk painting.
Optional: Hour Foot or Kymer Traditional Massage
After a long day of climbing around temple ruins, indulge yourself in a Khmer traditional massage. Massage for health and relaxation is a time-honored tradition throughout Southeast Asia with Cambodia offering its own distinctive traditions in massage therapy.
Enjoy a farewell dinner and a glass of wine tonight at Kanell in a charming garden setting.
Day 14 April 5 Saturday – SIEM REAP/USA-CANADA (BD).
The morning is at leisure with time for last-minute shopping and packing.
Depart this afternoon for a cruise on Tonle Sap. Tonle Sap (Great Lake) Located in the heart of Cambodia this extraordinary lake swells up to seven times its original size during the monsoon season. Its ecosystem is one of the richest and most diverse in the region. This boat trip will explore the floating fishing villages at the edges of the lake, passing submerged forests and fishing farms.
We'll have dinner before proceeding to the airport.
Day 15 April 6 Sunday – Inchon, KOREA to Hometown
Connect to our onward flight. Cross the International Date Line en route home.
JFK KE 081 departs at 10:20a arrives 10:00a same day
JOIN US AND GET A GUARANTEED SHARE ON VIETNAM AND CAMBODIA