Lost Luggage it felt like a disaster or at least the worst possible situation: lost luggage. Three of us in a Women's Travel Group of 20 ladies, flew to India a day before the group. It was a direct British Airways flight: London to Delhi. What could go wrong? Luggage was checked through so embarkation was a breeze.
Well here goes: In Delhi, we cleared customs, then waited at the luggage carousel. Nothing came out. I mean no bags at all from the 350 BA passengers. Heathrow's computers crashed; all luggage to all destinations was delayed. Only one of the three of us was dumb: me. I had carried on only a backpack with reading material. I had no clothes to change into from winter pants/sweater. The temperature in Delhi was 95. Crisis time? Well not really.
With 350 other hysterical passengers with lost luggage, we filled out necessary paperwork and then were transferred with our guide to our hotel. Our guide took immediate action called 'let's go shopping'. We drove to a fanciful store: Fabindia.  Fabindia is a chain of popularly priced cotton clothes.  It took only a few minutes. We bought no collar split front tunic style shirts, light weight trousers in beautiful batik designs.  The embroidered white shirt from that day, still in my closet, cost $7. Things were looking up.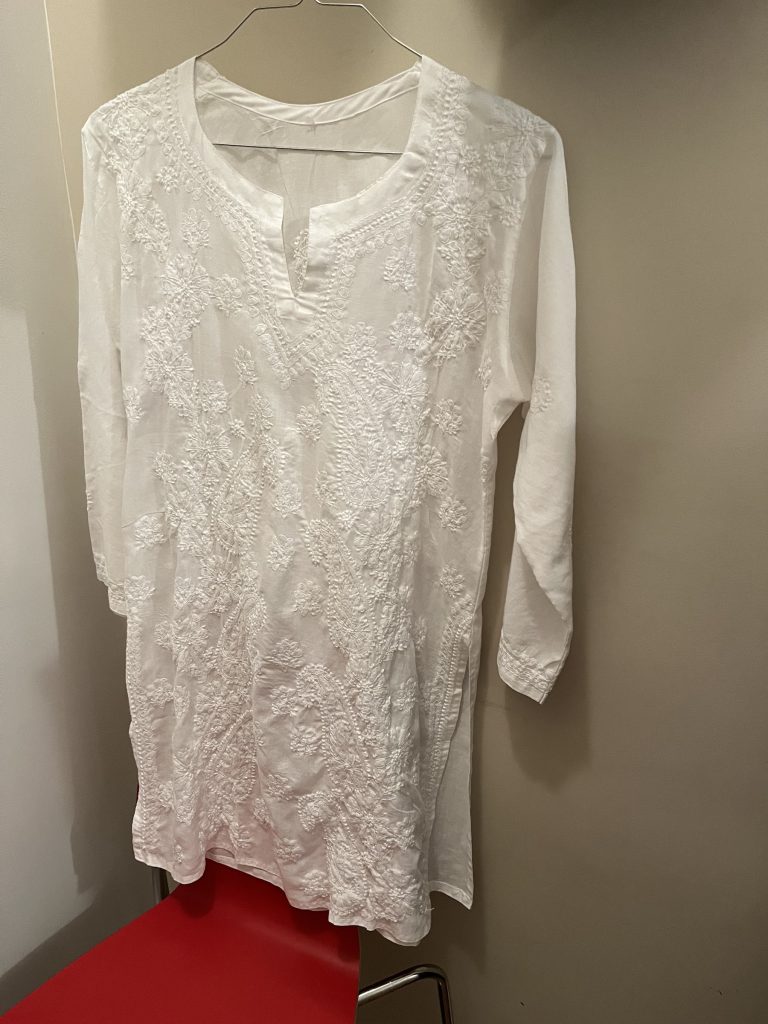 Next stop was an ayurvedic pharmacy. Here we tasted herbal toothpaste and sampled aloe vera and coconut oil moisturizers. We bought our beauty supplies.Now things were really looking up.
Back at the hotel, we settled into air conditioned rooms. The soft sandalwood scented robe was perfect. I washed out the 'precious' only set of underwear. Nibbled snacks and fruit given to each guest in her room.  And I went to sleep in the robe. Next morning with 9 hours of sleep, awakening to sandalwood, rose and almond, life was great again. We were freshly bathed, teeth brushed and moisturized with gentle local products. We had on our new cotton clothes and a whole day for our pre group private tour. Honestly, life at that moment was close to perfect.
The rest of the group arrived that night. Everyone had an offering: Who needs socks? Tees? Trousers? Underwear? It was a wonderful show of generosity. But that is women, right?

Lost luggage is rare; delayed luggage can happen especially if you have connecting flights on two different airlines. We all worry until we see our bags, right? BA has a solid system; they track your luggage and send you messages. They put money immediately into your bank account once you share bank details on line. We each got 50 British Pounds, more than all the Indian purchases.
The tour went ahead a usual. We came home with new cotton clothes, Indian cosmetics and sandalwood scent in our luggage. We also came home with experience: carry a few items of clothing with you. You can buy personal products anywhere. Don't freak. Shopping is a universal hobby; guides, their helpers and our group have amazing inventory.
We hope you feel more comfy about travel now, especially about travel with The Women's Travel Group, 30 years of lots of luggage. Contact us here for a list of upcoming tours for women.