Five Things That Scare You about India and our 2019 Trip
The old brand of India was poverty and begging.
You will get sick.
Traveling is tough.
The flight from the US is hard.
It is just too exotic and strange.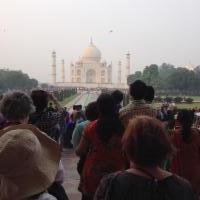 And Five Reasons You Should Go in 2019
Poverty and Begging
Poverty is on a decline with close to 44 Indians escaping extreme poverty every minute, per the World Poverty Clock. India has been able to lift significant percentage of its population out of poverty but many still live in it. There will not be annoying begging as our tour escort controls who approaches our group.
Sickness
Modern Indian hotels and restaurants cater to different palates. Hotel buffets are enormous with everything from French croissants to Japanese sushi. Bottled water is freely available and hotels provide plenty at no extra cost.
Tough Traveling
India airplanes are modern, on time and clean. Airports look like ours but with more exciting shopping arcades. Roads are smooth and again like ours.
The Flight
Ironically jet lag works in your favor when traveling to India from the US or Canada. You wake up early and are tired after dinner. Perfect for a travel schedule.
Exotic and Strange
Not so, once you immerse yourself in India. Even watching a night time burial in the Ganges River becomes a gorgeous and spiritual event. Our guide helps you to see life from a different perspective without preaching.
It is not too late to sign up for Your Trip of a Lifetime
India and Optional Pushkar Camel Market Oct 28-Nov 11 2019
Information about India or Other Trips from The Women's Travel Group,
Look at our site: The Women's Travel Group
Email us Phyllis@thewomenstravelgroup.com
Call us 646 309 5607
Check us out on Facebook.