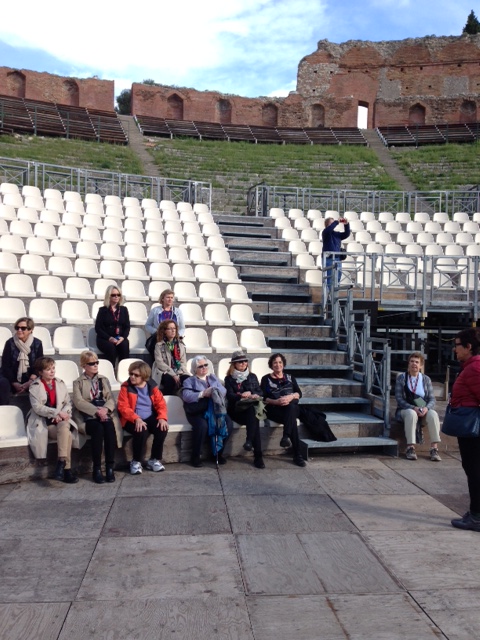 Resting for a minute in a Roman theater in Taormina, Sicily.
There were huge crowds at a local airport which propelled me finally to get Global Entry, the $100 a year queue jump security system for airports here. If you think you might be traveling this year and have that spare $100, go for it. Global Entry allows you to stroll up to a computer terminal, apply your information ( finger prints or whatever) and walk through immigration. I will know more this week after the GE interview.
Some facts that might be mini hurdles: you moved a lot, changed your name, do not have a valid passport and drivers license. Or if you went to see The Interview in North Korea.  You can look through the easy questions and enter your information on line.
Recent long lines at many airports seem to be connected to early retirements and government cut backs. We are not sure but that is the rumor. So, want to skip the lines? Invest in Global Entry. More later this week.
The Women's Travel Group want you to enjoy your trip from departure through arriving home with all that laundry. Join us to Cuba? France? S Africa? More?