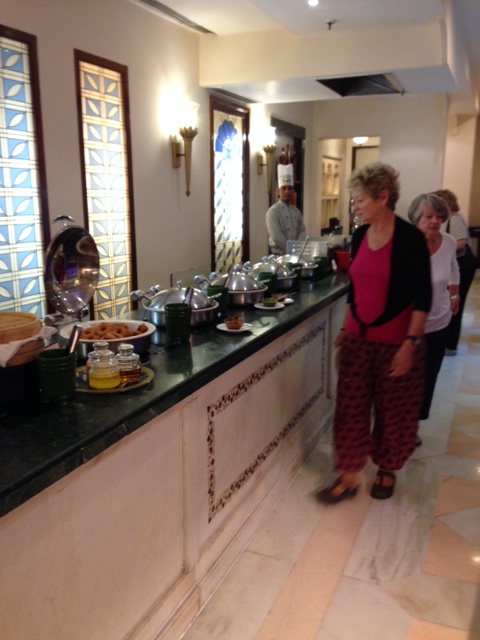 Everyone has reasons they like to travel.
Everyone has secret reasons also. Here are my secret reasons that I love travel to India.  The Women's Travel Group has 2 rooms left on Colors of India.
On to my secret reasons:shhhh
At home I cannot afford every impulse purchase. In India I can ruffle through gorgeous silk jackets, scarves, textiles,  jewelry never feeling out-priced. Some of the swag costs as little as a $dollar like the ten pack sequinned pens I gave friends.  Don't tell. Our tour escort helps you bargain, and buy- no need to be harassed by vendors.
I love rubber necking at exotic scenes, one sees only in India. Going to the Ganges River at night for a strange eerie ceremony with funeral pyres in the distance is only exciting if you are not scared. You will be with our tour escort all the way.  In most countries to witness something like the Aarti ceremony would mean being in very remote areas. In India,we can travel from our fine hotel to the Ganges in a few minutes. And the visiting elephant is just outside the bus window.
After touring, what do you need to feel whole? A luxury hotel room, with lovely herbal amenities and free bottled water? Yes in our 5 star hotels, you will always be able to retreat to your hotel room and enjoy the little surprises they present.  Want to try an Indian ayurvedic massage? Just wander downstairs in most hotels for a fantastic spa experience, pennies on the dollar.
Anyone who knows me, will guess the fifth secret: food. Food in our India trip is plentiful, clean, and often buffet style. Buffet means lots of choices,and quick dinners for those who wish.   Whether in a private mansion for one of our nights, a luxury hotel or a trendy restaurant for our welcome dinner, everyone will adore the meals. Just ask for no spice, no gluten or no sugar if that is your preference.
We have 2 rooms left on our India trip Nov 11-22 and are happy to welcome you with your secret reasons. Look here and Book there. Or call Mary at 1 800 421 5643 x 1518 and Phyllis at 646 309 5607. No question is dumb.